BJP Laboratories started as a family run business with 3 staff members, and began contract manufacturing listed medicines and probiotic supplements in 2008.
Today BJP laboratories is a certified TGA/cGMP production/warehouse facility occupying 6,500 square metres and employes over 150 staff,operating out of the beautiful Gold Coast South East Queensland region.
With our foundational believes in business growth and commitment to assist all business sizes in innovation and product development, BJP Labs and its Founders (Brian & Esti Siebert) are proud of what has transpired over the past years watching customers grow alongside with BJP Labs. (Brian Johan Pharmaceuticals)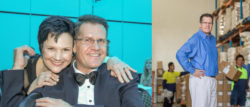 BJP has established ourselves as a prominent Probiotics supplement manufacturer, our bio-fermentation division is famous for its papaya fruit and leaf enzyme supplements, also specialising in multi ingredient fermented supplements. The latest addition is our modern analytical laboratory with a microbiology and chemistry divisions.
At BJP we value our diverse cultural backgrounds.  With diversity as our strength, we strive to work together as a team, with each one performing his/her tasks in the best way in order to be successful in our business and our mission.
We are committed to deliver high quality and safe nutraceutical, probiotics and complementary products and services that meet or exceed specifications and quality standards in compliance with all applicable regulatory requirements, with the principles of current Good Manufacturing Practice (cGMP), and with other related global territory regulations.
We are committed to strive for continual improvement in the quality of our products, processes and services through periodic review.